Let us collect your instrument!
We can arrange collection of your instrument through our local courier (please see rates below). We have relied on Carr Road Distribution LTD for all our carriage requirements, ever since our repair company was launched in 2008. We highly recommend them!
"You can be rest assured that your guitar or amplifier is in safe hands with Carr Road Distribution LTD. They understand just like us, the need for added care when dealing with musical instruments."
How to arrange a collection:
You can contact us by phone on 01394 274036 or mobile: 07711 744279. If via email please click the link below. You will be asked to provide contact & address information. Please note: It is important we have accurate contact information to pass onto the courier. To contact our courier direct, please see their contact details further down this page. To arrange carriage from a location of your choice, please click the link: Arrange collection
Collection & delivery times: Once we receive your repair request details & contact information, we will arrange a suitable time for collection with you. Please note that collection & delivery times vary depending on location, however we will normally notify if AM or PM. We can usually arrange collection for the day after the initial enquiry (if required), although time-scales for completion of repairs will need to be pre-arranged with ourselves.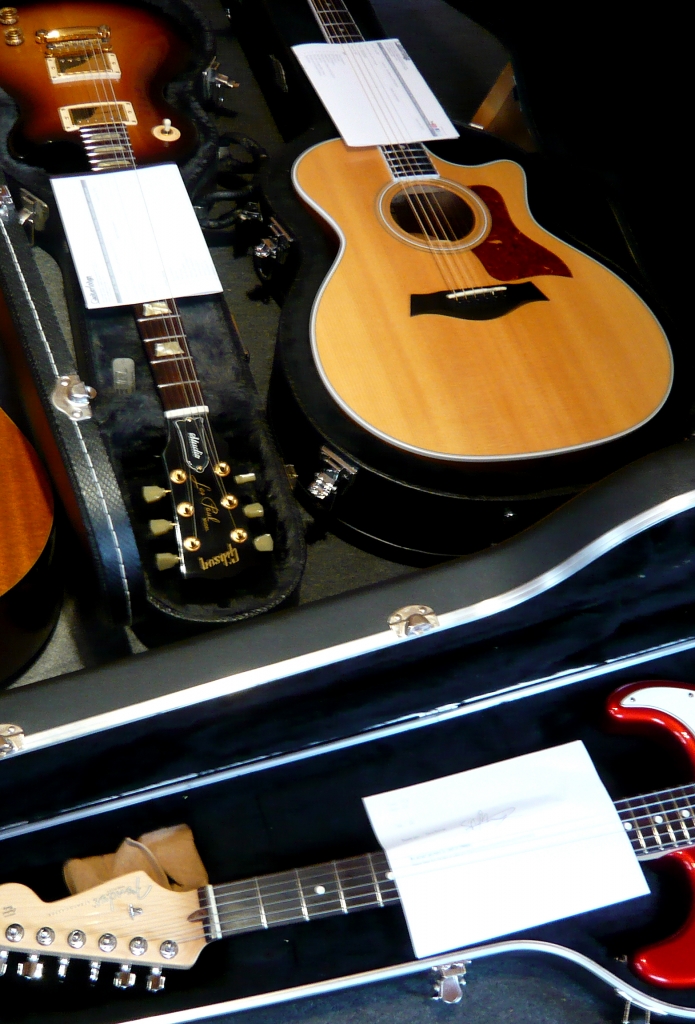 Preparing your instrument for carriage: Whilst our collections & deliveries are on a fragile service as standard, you will still need to ensure your instrument is carefully packaged. Guitars should preferably sent in a hard case ensuring the strings are loosened off slightly before dispatch. Cardboard boxes with plenty of bubble wrap will do just fine if you do not have a hard case. Please ensure you include (in the guitar case) your contact details & a brief description of the work required on your instrument! This is just to make life easier for us at this end & there is no danger of you receiving the wrong guitar/amplifier.
We will contact you as soon as your instrument arrives safely at our repair centre. 
Returning your instrument: Once all the repair work on your instrument is complete we will send you an invoice via email. This will include your repair & carriage costs. Please note: We can only dispatch repaired equipment once payments have cleared. We accept payment via Paypal or direct bank transfer (paying in details will be provided on your invoice). We would ask you politely to inform us of your instruments safe arrival.
Important courier information:
Instrument insurance: Your musical equipment is insured whilst in transit with our courier. Additional insurance fees will be incurred for items valued over £1000. Please contact our courier directly if you require more information on insurance costs.
Sending multiple items: Certain discounts will apply when sending more than one item. Fees will be worked out accordingly on an individual basis. Please contact us for details.
Tracking: We are able to track deliveries on your behalf. Alternatively contact our courier direct if you are concerned about delivery or collection time-scales. (see below for contact information).
Outside the UK: Collections from outside the UK will incur alternate rates from the price tariff listed (see below). Please contact the courier directly if you require this service.
Collection of large musical equipment: Please contact our courier for price information if you require collection of large musical equipment. See tariff below for a guide to our carriage prices.
Guide price tariff:
| | |
| --- | --- |
| Collection & delivery of one guitar (Cased & packaged by customer) from any location within the UK (mainland only) | £45 inc VAT |
| | |
Contact our courier direct:
If you would like further information on our courier service please contact Chris Kirk at Carr Road distribution LTD:
Tel: 01394 676123 Mobile:07739 625481
Email: info@courierfelixstowe.co.uk
Website: www.courierfelixstowe.co.uk
Carr Road distribution LTD
22 

T

rewlawny house
The Dock
Felixstowe
Suffolk
IP11 3GA
Registered Name: CARR ROAD DISTRIBUTION LIMITED
Registered No: 02655760