Strats, Teles, Warmoth kits & more…
Assembling a guitar is just the start!
Let us build your custom guitar:
We have been building guitars for satisfied customers ever since establishing our repair & set-up services commercially back in 2008. Some instruments turn up as a box of parts; others are partly finished projects that need the final stages taken care of. High standards of craftsmanship go into all our build commissions & no instrument leaves our guitar repair centre, until we are entirely satisfied with every aspect of its playability. All our custom build guitars are guaranteed (please see terms & conditions at bottom of page).
There's lots of choice these days when it comes to replica guitar bodies & necks, owning a custom instrument has never been this easy, although several factors need careful consideration when choosing the make up of your guitar or bass. Compatibility issues (common on project instruments) can be avoided with a little bit of pre-purchase research.
We can assist if you are considering a custom built instrument & offer advice on suppliers, wood types, finishing options (if required), hardware, bridges & pickups. There are plenty of manufacturers out there offering some fantastic guitar & bass kits including Warmoth, Stewmac & Northwestguitars just for starters!
Contacting us & important information:
Please contact us if you have a build related enquiry. If you require a project completing & you're contacting us via email, please describe the work necessary to complete the instrument. Sometimes a few photos can be helpful. Set prices are not available on guitar builds (kits or projects) but no-obligation, estimated quotes can be given via email based on personal requirements. It's always better (whenever possible) to pop into our repair centre, where we can discuss your project details & costs in greater detail. All custom built instruments will require a set-up upon completion, please see guitar & bass setups page for details. Deposits may be required on certain custom-built guitar orders. A custom guitar example can be viewed lower down this page.
Custom guitar projects:
Unlike commercially available guitar kits, project guitars often involve bodies & necks from various instruments coming together Frankenstein style! Aspects like scale length, neck pocket routing specifications, manufacturing differences & other variations, all have to be taken into consideration when mixing guitar body parts. Guitarlodge can offer advice on any instrument parts you may be considering for a build, & we'll always try to work closely with you at every stage of the project in order to get the best end result. We have taken on & completed many guitar & bass projects over the years, some with bolt on necks, others with glued in or straight through designs. With so many variables it's no wonder that two custom built guitars are seldom the same.
Things to consider during assembly: In our experience there are no short-cuts or quick fix solutions involved in a good quality guitar build, we'll only hand your instrument over once we are completely satisfied with every aspect of playability, & if extra work is required to get it right you will always be consulted. Custom building is an ideal opportunity to get exactly what you want from an instrument & we regularly install Tremolos, re-fret necks, change the colour, convert from right to left handed, customise electrics & lots more! Obviously replica builds like Strats & Teles for example are popular & often less involved, however we rarely assemble a guitar (kits included) that isn't in need of some of the following procedures to get it spot on:
Minor fret dressing to eliminate choking of notes & buzz, sometimes replacement of a few frets
Slight adjustment of the neck pocket often involving a little routing work or neck resetting using shims
Enlargement of control cavities to house custom components including batteries & active circuitry
Routing of pickup cavities to accommodate humbuckers or extra pickups etc
General modifications when parts like bridges, scratch-plates, control plates & hardware do not fit correctly
Headstock logos: Application & lacquering over, or removal

Guitar kit builds:
Guitar kits have become extremely popular over the last few years. Manufacturers are able to quickly & accurately cut out classic well-known production guitar shapes with ease using computer technology. These necks & bodies can be purchased for a reasonable price pre-finished, or natural ready to finish in any colour or style preferred. Due to an increasing demand for these instruments we are now regularly building kits to personal specifications for customers all over the country. The advantages of a kit build over a production guitar are numerous, although deciding on body wood types, necks & components can be difficult with so many possibilities.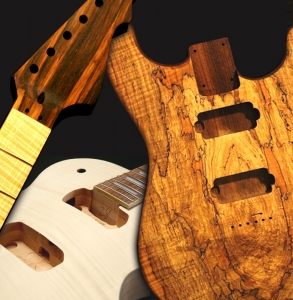 How do I arrange a guitar kit build?
At Guitarlodge we can offer a complete kit build service tailored around your exact requirements. We can purchase all your kit parts, assemble & set-up the instrument (deposit required, see terms & conditions below), or you can source the parts & send them to us. Please see the kit build sites listed at the top of this page for starters, & check out the vast selection of models available. Hopefully this should give you some ideas & get you started. If you have any questions about bodies, necks, paint finishing or component choices please feel free to contact us & we can discuss your build idea!
Custom build Telecaster case study:
The custom Telecaster (pictured) was built to order for one of our regular customers. He very kindly wrote a few words about the guitar & its specifications. Click image to zoom.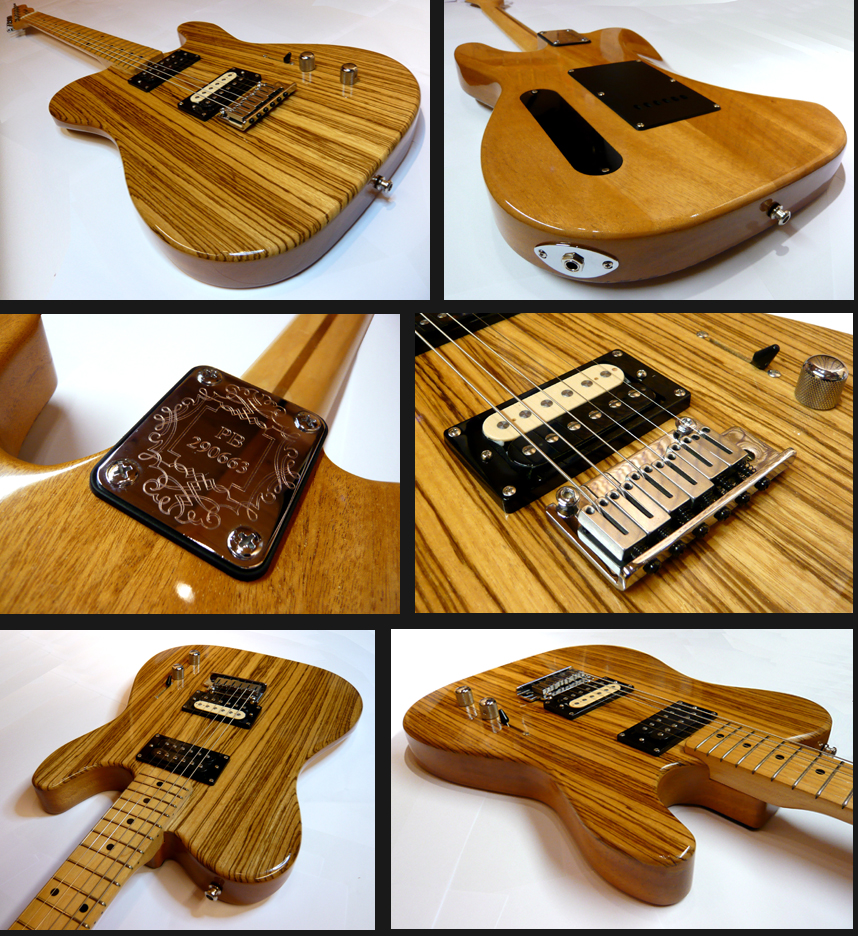 I wanted to have something special built around the Tele shape but with a pair of humbuckers. I found TK Custom Guitars in the US who have a great selection of bodies with a wide range of woods and finishes etc. I went for a Zebra wood top and mahogany back with a tummy rout, and a lacquered finish. TKcustomguitars did a fantastic job. I already had a maple neck with a perfect profile from a 90's Japanese Telecaster and an American Deluxe Fender bridge. The pickups story was interesting in that I wasn't sure what to put in there. I went to see Thin Lizzy in Holland and was lucky enough to get to talk to the guitar god, Scott Gorham, after the show. We chatted about his gear and I asked what pickups he used? He said he loved the
Gibson 500T humbucker
so that was it….the bridge pickup is the 500T and the neck is a 496T. So its basically a Les Paul in a Tele disguise, except that the humbuckers are coil-tapped with a push-pull pot which makes it even more flexible. It was all delivered to Steve at Guitarlodge who did a fantastic job of creating a great guitar out of the bits I left with him. Couldn't recommend him highly enough. It still makes me smile every time I pick it up :)
Custom build guitars terms & conditions:
Our work policy: We guarantee to carry out the correct procedures required to repair/build your instrument. Should we notice any other work that we feel may need attending to, we will discuss this with you & only proceed if requested to do so.
Your guarantee: We always guarantee our workmanship on guitar builds & rebuild work for a period of 6 months. This only applies to the work we have carried out & does not cover string breakages, damage due to misuse or rough handling etc. Many procedures are involved in building guitars; please see the relevant pages on this site if you require information on their guarantee details.
Deposits: Please note deposits are required if kits, related components & pickups etc are purchased by us for instrument builds. Deposit fee is based on overall expected cost of parts, please contact us for details.
Turnover times: Time-scales can vary on custom made & kit build instruments, please be prepared to wait several weeks in certain cases. Builds can be delayed pending any finish work, availability of replacement parts (If required) & ordering of kit parts from overseas (If applicable). All instrument builds require a set-up on completion.
Payment: All bills will be settled upon completion of work to your satisfaction. Payment will be required upon collection of your instrument(s). We will only dispatch your instrument(s) once payment has cleared (courier service only). Details of payment methods can be found on our prices page.
For further information on our instrument building service please contact Steve Barratt:
Email: info@guitarlodge.co.uk
Telephone: 01394 274036
Mobile: 07711 744279