Floyd Rose or Bigsby? Graphite, bone or brass nut?
If its upgrade time you've come to the right place!
Finding the right parts:
With so many replacement-upgrade parts available these days, it can get confusing as to which parts are going to be right for your instrument? Going on-line & finding the right bridge, top-nut, locking nut, saddle or tuners for your guitar or bass can be a real headache (enter Google & forums). Although a lot of these parts are compatible & often produced under license to look identical to well known brands, (Floyd Rose bridges for example) the quality can vary between manufacturers!
We install many different types of guitar parts including tremolo systems, bridges, saddles & top-nuts amongst others. We can advise on most brands & models if you are considering any installation work. We always use the best quality parts on our installations (when supplied by us) & ensure they are fitted to the highest possible standards.
All installations are covered by our guarantee (please see terms & conditions at bottom of page). Case studies & pictures can be viewed on our gallery page.
Contacting us & important information:
Please contact us if you are considering an installation. If via email please include your instrument make & model along with a detailed description (web-link) of parts to be installed (If applicable). It is not always possible to give a set price on this type of work (see prices page), but please feel free to ask us for a no-obligation quote. Better still, pop into our repair centre where we can discuss your installation needs. Some of the installations below require a full set-up; please see our guitar & bass setups page for details.
Guide to our installation services:
The component installation examples listed below are a selection of our most commonly requested. If you have a specific part that you would like installed & its not included on this page, please contact us as we can normally help. If required we can supply parts (combined with an installation) including bridges, tremolos, tuners, acoustic saddles etc. Please contact us for further details.
Tremolo installations: Straight replacement or new installation on Floyd Rose, Bigsby, Schaller, Tremking, Wilkinson, Gotoh, Fender & more. In most cases tremolo installations will require a full set-up. Please see the article below for more information on tremolo installation.
Replacement top-nuts: Improve your instruments feel & tone! Choose from pre-slotted straight replacement top-nuts, or custom made cut from a choice of blanks to your requirements. Please see the article below for more information on top-nuts. In some cases top-nut installations may also require a full set-up.
Replacement bridges: We fit replacement & upgrade bridges to all makes & models of guitar & bass. We regularly replace rattling cheap tune-o-matics & worn out bridges suffering tuning & intonation issues with tried & tested compatibles, including Badass bass, Gotoh, Wilkinson, Schaller & Mastery guitar bridges amongst others. We cannot list all our bridge options, so please contact us if you have an enquiry about a specific model that you are considering having installed. Certain bridge installations require a set-up.

Acoustic guitar saddle replacement: One of the most popular upgrades we carry out is replacement of cheap acoustic guitar saddles. There are many advantages (see article below for more information) & once again, tone is top of the list! All saddle replacements are combined with a full set-up without exception.
Tuner installation: Decent tuners/machine-heads can be expensive! However replacement of cheap or worn out, broken tuners can totally transform the tuning stability of your instrument. We can advise on any types & brands you may be considering, & frequently install: Sperzel, Gotoh, Schaller, Grover & more. Tuner installations are often combined with other procedures.
Tremolo installations:
Floyd Rose types: We replace tremolo systems on a regular basis. Many (stock) 'Floyd Rose' style tremolos suffer tuning & stability problems, especially on lower budget guitars. This is normally down to cheap alloys being used & poor construction. This can lead to stripped adjustment screw threads, string saddles that wear prematurely (string keeps popping out) & ultimately tremolo breakage. Many tremolo (Floyd design) systems have the same dimensions & mounting post centres & are fairly straightforward to install, but not all! Correct setting up is crucial with any tremolo system & we always advise combining an install with a pro set-up.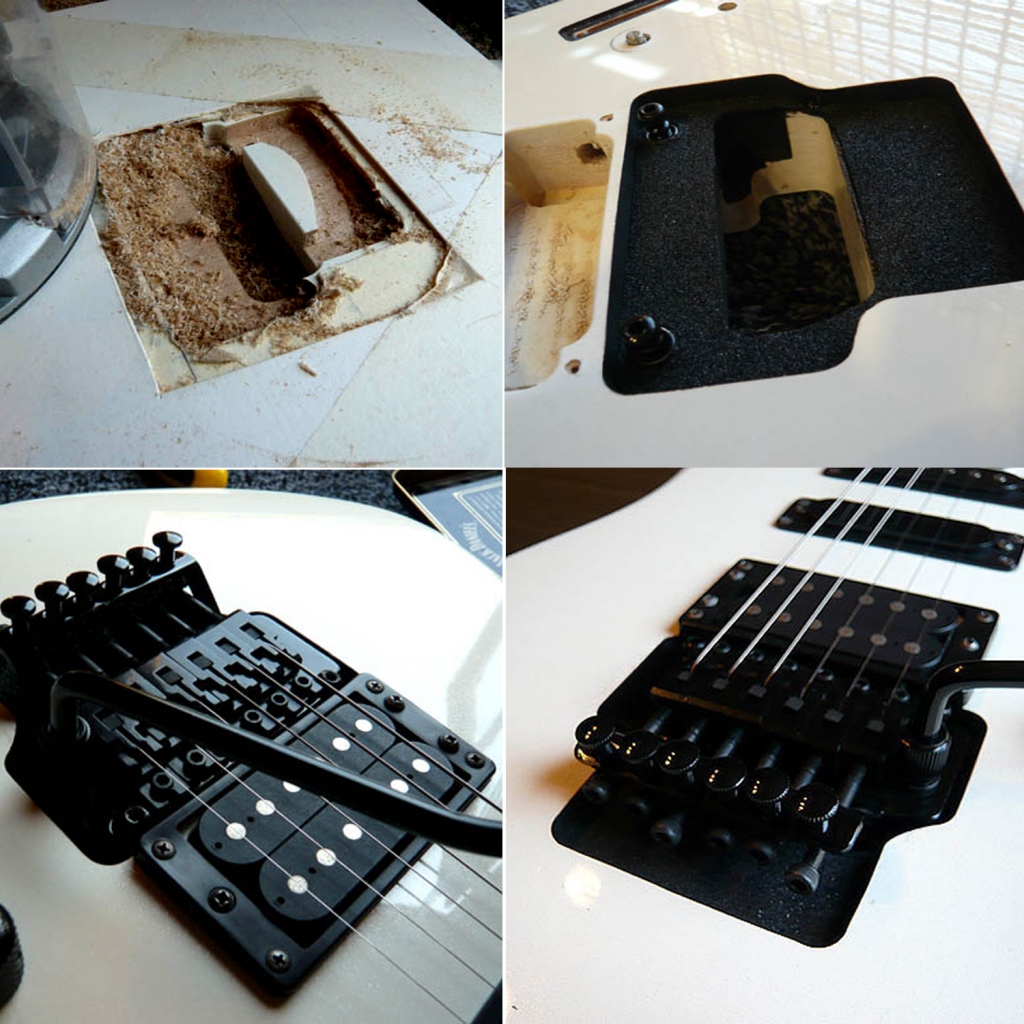 Routing work: Routing a guitar to install a Floyd Rose tremolo or similar, involves skill & experience. Many variables have to be taken into account pre-installation & double-checking every detail is the only way to guarantee accurate & correct function. Precise scale length, neck radius match, locknut seating & correct relative neck angle are just a few aspects that must be considered. Non-tremolo equipped guitars, i.e. Les Pauls & Telecasters etc, require extensive routing (front & back), to facilitate a tremolo unit. On Strats & similar the existing tremolo cavity is utilised & a small amount of additional routing work is all that's required. Localised re-finishing is normally necessary with Floyd Rose type tremolo installations.
Locking nuts: The installation of the Floyd Rose locking nut involves routing an extended 'level' shoulder from the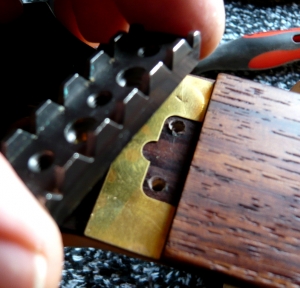 edge of the fingerboard, in effect removing the old nut seat completely (there's no going back). This process can vary in difficulty depending on guitar type. This rout has to be precise & will need to allow for string height adjustment using shims once the nut is secured.
Final set-up: Setting up a newly installed tremolo system can be time consuming. Tremolos may require individual saddle height adjustment & shimming to suit certain neck profiles. Shimming of lock-nuts is usually necessary to obtain perfect string action. Certain guitars may require resetting of the neck angle.
Pre-slotted & custom made topnuts: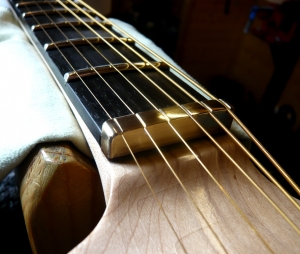 Top-nuts can wear out after time causing tuning problems, buzzing, lack of sustain, poor tone & intonation amongst other issues. Sometimes we replace perfectly good nuts because the string spacing did not suit the player or the material/tone was not to their liking. Pre-slotted nuts come in numerous shapes; sizes, materials & the right choice can improve tone, especially on acoustic guitars, if used in conjunction with a same or similar material saddle. However the demand for custom made nuts due to personal preferences & playing styles keeps us busy. We can manufacture custom made top-nuts from various materials including: bone, brass, graphite & Mikarta.
Acoustic guitar saddle installation: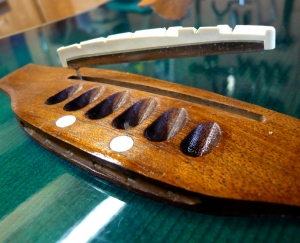 Acoustic saddles can need replacing for a number of reasons, as with top-nuts the material used can have a drastic effect on tone. Replacing cheap plastic saddles for improved tone, by upgrading to bone or Graphtech-Tusq type saddles, is common practice & we regularly incorporate this modification into our acoustic guitar set-ups. There are many compensated & uncompensated saddles readily available in various sizes & materials, we can advise on saddle & guitar compatibility if you are planning an upgrade to your instrument. Certain manufacturer's fit integral bridge saddle-transducers for better contact (pictured right), replacement choices on these can be limited.
Installation terms & conditions:
Our work policy: We guarantee to carry out the correct procedures required to repair your instrument. Should we notice any other work that we feel may need attending to, we will discuss this with you & only proceed if requested to do so.
Your guarantee: We always guarantee our installation work against failure or breakage for a period of 6 months. All parts fitted are guaranteed In-line with manufacturers guidelines. This only applies when we supply the parts & does not cover string breakages or damage due to misuse or rough handling etc.
Turnover times: Time-scales for installations will depend largely on availability of parts. Should the install involve a set-up, allow at least 2 days for the work, this allows the instrument to settle after adjustment. We will contact you if we are unable to meet an agreed turnover time.
Payment: All bills will be settled upon completion of work to your satisfaction. Payment will be required upon collection of your instrument(s). We will only dispatch your instrument(s) once payment has cleared (courier service only). Details of payment methods can be found on our prices page.
For further information on our installation services please contact Steve Barratt:
Email: info@guitarlodge.co.uk
Telephone: 01394 274036
Mobile: 07711 744279