Refinishing, custom inlays or guitar restoration?
Check out some of our guitar customising options!
Customisation – its your choice:
Instrument re-finishing & inlay customisation are specialist skills in their own right. At Guitarlodge we strive to provide for every possible requirement when it comes to professional fretted instrument repair. From our huge choice of colours & finishing options, to the vast creative possibilities available using custom inlays, there are no limits when it comes to personalising your instrument.
Our guitar restoration service often includes finishing work along with several other procedures from this website, & many instruments have been carefully restored to their original priceless state!
If you are considering any customisation work on a musical instrument its well worth asking us first. When it comes to paintwork we will advise & discuss all the details including preparation work involved, stains & lacquers used, an estimated turnover time along with advice on looking after the new paint-job!
The highest levels of craftsmanship & care go into all our customisation procedures & all work is guaranteed (please see terms & conditions at bottom of page). Case studies & pictures can be viewed on our gallery page.
Contacting us & important information:
Please contact us if you are considering any finishing, inlay or restoration work. If via email please remember to send us some good quality photographs if you require advice on a finish related repair. It is not possible to give a set price on this type of work, but no-obligation (estimated) quotes can be given via email in most cases. Better still, pop into our repair centre where we can discuss your repair details & costs. Any customisation pricing included on the prices page should be used as a guide only. Most inlay customisations require partial or complete re-fretting, please see our refretting & fret dress page for details
Instrument refinishing:
Please note: Our instrument refinishing service is temporarily unavailable.
At Guitarlodge we have years of experience in all aspects of instrument re-finishing. Whether you are considering a paint related repair or a complete body-neck respray, we can advise on various coating types & products. We always ensure every detail of your finishing job is checked thoroughly before any dismantling, preparation or ordering of coating materials begins. There are a few things to bear in mind when considering finishing work on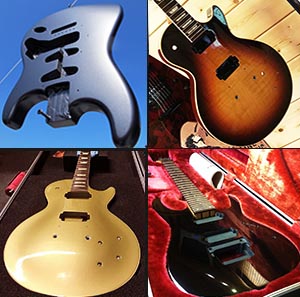 an instrument, including:
Expect estimated turnover times of 6 to 8 weeks with certain paint types due to long drying times & between-coat preparation.
Guitar tops or backs will normally require complete re-spraying in the event of serious damage.
Whenever possible please let us re-assemble the instrument after re-finishing, it can be a delicate process.
Colour matching faded paintwork can be difficult & complete re-finishing is often an easier option.
Re-finishing is a time consuming & costly process, always choose colours carefully & specify gloss, satin, matt etc.
Guide to finish types:
We use various coatings when finishing & can recommend which type will best suit your instrument. The type of finish applied will vary depending on whether we are adding to existing paintwork or totally stripping the finish & starting again. Coatings commonly applied include nitro cellulose or acrylic lacquer, polyurethane, oils, varnish & natural wood stains. We re-finish all kinds of fretted instruments from Les Pauls to Mandolins & other finish types are available. We can offer block colours, sunbursts, metallic & many other special finish types. Please contact us if you have a specific coating requirement. See below for a brief guide to some of our available coatings & finish effects:
Nitro cellulose (Lacquer): This traditional coating as used famously by Fender & Gibson is less resilient to impact & requires more coats during application. Many vintage instruments were sprayed using this car-paint derived lacquer & today plenty of production guitars are still painted with nitro. Unlike modern polyurethane coatings nitro allows the wood to breathe, it also ages naturally chips-dinks & all (as per vintage guitars) & does not take away from an instruments natural resonance (unlike poly-finish). We still paint guitars using nitro & can offer most current & vintage colours.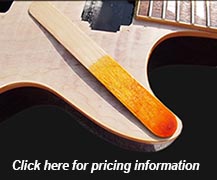 Polyurethane: Unlike traditional lacquers, poly-finish (as its often called) requires few coats due to its thick consistency. This modern (plastic-like) coating is today used on numerous modern production electric guitars & along with super durability, it has a few other benefits including resistance to fading & aging, faster drying times & safer application. Polyurethane is becoming more popular nowadays & we coat lots of instruments using this hard-wearing finish. We can also offer Acrylic type finishes which are hard wearing & durable.
Stains, oils & natural finishes: We offer various staining & natural options for instruments in a wide variety of colours, with or without clear top coats. Oil type finishes are easily maintained once applied & many players prefer the playability of an oiled neck due to its non-sticky feel as opposed to conventional lacquer. Tung oil or Tru-oil are very popular due to their protective qualities & can really bring out the grain In certain tone woods.
Application effects & styles: Re-finishing options include various 2 or 3 colour sunbursts, vast selection of solid colours in gloss, matt or satin, metal-flake, metallic/pearlescent, translucent & clear tint colours, classic vintage colours & natural finish staining. If you have a particular colour in mind, please ask as we can probably help!
Instrument restoration:
At Guitarlodge we offer a full restoration service for fretted instruments. This often combines many of the procedures included on this site, & quite frequently some additional investigation & Internet research! Restoring an instrument to its original or similar state can be involved & certain problems can arise, in particular when finding original replacement parts or finish colours. On vintage instruments components can be hard to come by & we often repair various parts in order to maintain authenticity & sale-able value. We have restored many fretted instruments from vintage Fenders & Gibsons to Mandolins & Banjos! We can advise on any restoration project that you may be considering & in certain circumstances offer a no-obligation guide quote (estimate). Please note long turnover times are to be expected with restoration work.
70s Custom bass restoration project case study:
This 70s Precision custom bass (pictured) was carefully restored at our repair centre. The neck was twisted & required straightening using heat treatment, this had possibly been caused by bad storage & lack of use. The body had been hand painted with household varnish years ago, this was removed & a few dents & gouges were carefully steamed out. The body was then prepared & re-finished in a natural satin 2K Acrylic clear coat.
Some of the electrics were corroded & the control pots were replaced. All soldering was checked for dry joints, re-soldered & rewired where necessary. The original bone nut had broken so a replacement was fabricated from a bone blank. The bass was customised in the 70s & had a slightly wider nut seat than a standard USA Fender Precision. The bridge & hardware were all intact & luckily no replacement parts were required. The bridge was dismantled, cleaned & serviced. All other parts & hardware were cleaned & polished to their original state.
After assembly & restringing using flat-wounds, the top register required fret dressing due to several dead spots that were causing string rattle. Once the offending frets had been dressed it was re-assembled, set-up, cleaned & tested. Approximate turnover time 6 weeks, cost £456.
Inlays: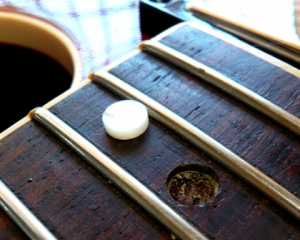 Custom designed inlays are as popular as ever & a great way of adding a personal touch to your instrument! Mother of pearl, abalone, shell & paua are the most commonly used materials for designs & are readily available in many shapes & sizes. Certain woods can be crafted into designs & also make ideal marker dots, replacing cheaper plastic types. Many popular inlay shapes are available pre-cut in a range of eye-catching materials, check out Rothco & Frost to view. Our most commonly requested custom inlays include:
Personal names or initials on fretboard or headstock
Replacement of neck dots for blocks, solid or split (Gibson Les Pauls, 335, Archtops etc)
A personal design or logo of your choice at 12th fret
Replication of well known professional players inlay designs
Replacement of dots with shapes such as diamonds, skulls, trapezoids, shark-fins, stars

Personal inlay designs can be drawn & sent via email or post, please specify a preferred material. Complex designs can be difficult to accurately reproduce & may require changes; in this instance we will notify you & explain any changes before the work starts. When enquiring about names or initials, please specify the exact size & font type used in any designs. The inlay procedure pictured above shows dots being replaced with solid mother of pearl blocks, this is a commonly requested customisation. The customer in this case had inlays replaced on 2 guitars, the other had split blocks fitted.
Customisation & restoration terms & conditions:
Our work policy: We guarantee to carry out the correct procedures required to repair your instrument. Should we notice any other work that we feel may need attending to, we will discuss this with you & only proceed if requested to do so.
Your guarantee: We always guarantee our workmanship on re-finishing, inlay, customisation & restoration work for a period of 6 months, this only applies to the work we have carried out & parts used (if applicable). Paintwork & coatings are guaranteed against discolouration or reaction, but not scratching or assembly damage. String breakages or damage due to misuse or rough handling are not covered.
Turnover times: Time-scales can vary depending on curing times between finish types & the number of coats the instrument may require. Restorations can be delayed pending any finish work, availability of replacement parts (if required) & additional set-up work, which may be necessary. Inlays require varying degrees of fretwork & time consuming cutting procedures, time-scales can vary, but allow at least two weeks. We will contact you if we are unable to meet an agreed turnover time.
Payment: All bills will be settled upon completion of work to your satisfaction. Payment will be required upon collection of your instrument(s). We will only dispatch your instrument(s) once payment has cleared (courier service only). Details of payment methods can be found on our prices page.
For further information on our customisation & restoration services please contact Steve Barratt:
Email: info@guitarlodge.co.uk
Telephone: 01394 274036
Mobile: 07711 744279